Stay Competitive With a Reliable F&B POS System
In today's fast-paced business environment, staying current with technology is essential for any industry, but especially so in the cut-throat world of food & beverage. Customers have high expectations and restaurants must keep up with the rapid pace of technological advancement to ensure they meet those expectations. Restaurant point-of-sale (POS) systems are a valuable asset for streamlining processes, improving operational workflow as well as customer experience. Investing in the right F&B POS system can help a restaurant stay, provide a better customer experience, remain competitive, and eventually increase profits.
How a POS system can benefit your F&B business
Accurate Business Reports
Not only do POS systems have the ability to generate daily sales reports, they can also calculate margins, individual item sales, operations costs and much more. This data helps restaurants monitor their operations in real-time and make more informed business decisions. Automated inventory management and numbers processing reduces the need for manual data entry, freeing up time to focus on other aspects of the business.
Inventory Management
A good F&B POS system can track inventory, predict demand, and monitor stock levels in real time. This inventory data ensures that restaurants have all the information they need to reduce waste. They can check inventory at other outlets and perform internal transfers instead of ordering new items and resulting in excess stock. Hence, advanced inventory management serves as a useful asset when it comes to reducing waste and in turn reducing unnecessary expenditure, benefiting restaurants' bottom line in the long run.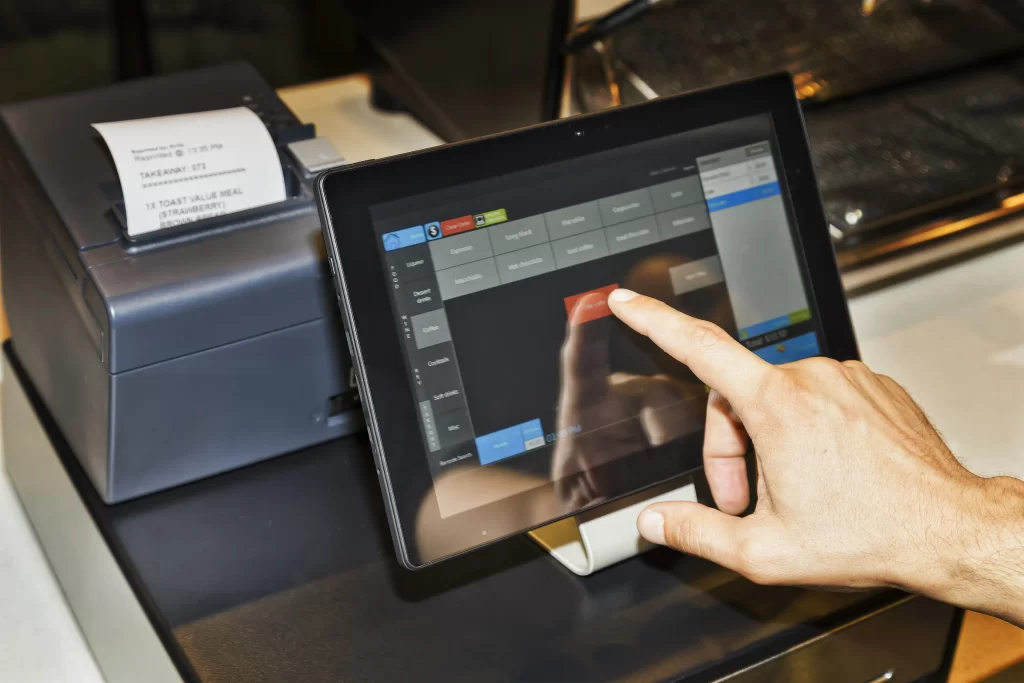 Online Order Integration
Accepting online orders is essential for catering to a larger audience, especially as more customers prefer to have food delivered or ready-to-pick-up. However, managing online orders, particularly those from multiple third-party vendors, can be difficult. Restaurants can integrate online orders with the help of a good F&B POS system, consolidating multiple channels of information into a single access point. This can increase order-taking capacity while also allowing staff more time to focus on other aspects of operations like attending to dine-in guests.
Customer Relationship Management
By logging purchase history and preferences, POS systems can track customer behaviour. POS systems can be integrated into customer relationship management (CRM) software, providing restaurants with a more complete picture of each customer's interactions with the business, including past purchases, feedback, and complaints. Businesses can use this data to better understand their customers' needs and preferences and tailor their services and offerings accordingly. This helps customers stay engaged with the restaurant, building loyalty and encouraging repeat visits.
Monitor Employee Performance
Businesses can monitor a variety of metrics, such as employee sales and turnover rates, to identify areas that may need additional training. For example, if a restaurant's sales drop during a specific day, the POS system can provide information on which staff members worked during that day, how many orders they took, what each order was, and how long each order took to complete. Businesses can obtain a comprehensive overview of staff performance using this data, allowing them to identify any prevalent issues that may be affecting sales and make any necessary changes to SOP or training methods to drive better spending from customers.
FoodZaps: The F&B POS System of Choice in Singapore
FoodZaps provides an all-encompassing point-of-sale system made to help F&B companies cut costs, free up staff, and boost sales. Our POS system has been adopted by a wide range of F&B businesses, including cafes, hawker stalls, kiosks, restaurants, and bars/clubs. Our F&B POS system has a number of features, including automated e-waiters and e-menus, order stations, employee and inventory management, report analytics, and QR code ordering system.
Contact our sales team of FoodZaps at sales@foodzaps.com or +65 89214028 to learn more about how we can help you revolutionise your F&B business operations in Singapore.